The Jill Duzan Jewelry Team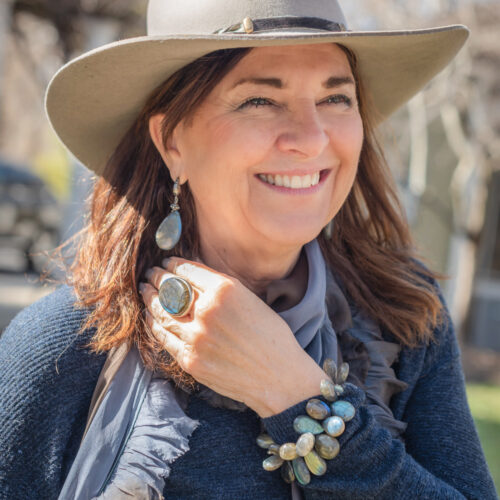 Meet Jill
As her passion for design and fine art led Jill Duzan Willey on a quest to create her own style of jewelry, the forms found only in nature helped her to complete her journey. Her design sensibilities melded with her appreciation of nature and the first necklace was created. This first creation attracted attention immediately because of its unique combination of stones and silver. Strangers began asking where they could buy her work and the jewelry business, as well as many wonderful new friendships, began. Around the same time, Jill was browsing through a gallery in Naples, Florida and fell in love with a small piece of art leaning against the wall...a jewel in sienna tones with incredibly beautiful lines, circled by a gilded frame. A Picasso lithograph! Several months after the purchase, Jill ran across the art certificate and, for the first time, read the title of her Picasso lithograph...Female Head with Necklace. At that moment, she realized that her new passion was really a calling of sorts!
Meet Heidi
Heidi Gessner recently reunited with Jill Duzan as a marketing consultant. Jill and Heidi are long-time friends and coworkers. In fact, Jill's first jewelry trunk show was in Heidi's living room in 2007. Heidi is currently the Indiana rep for Corian Design and has been in the interior design industry for over 20 years. Her passion lies in being creative. Whether designing a space, choreographing a musical or creating her morning fashion as she heads out the door, her love is creativity. She is excited to be working with the JD team and looks forward to expanding the Jill Duzan audience.
Meet Donna
Donna Webster has been with Jill Duzan since 2007. She joined the JD team after meeting Jill at a trunk show. Seeing Jill's passion for stones and design created a desire to work alongside Jill in her studio. Donna currently works as the studio and show coordinator and production assistant. Her creative eye, attention to detail, and dedication to quality control is invaluable. Donna has been selling Real Estate for over 30 years at the F. C. Tucker Co., so working for Jill Duzan is the perfect creative outlet.
Meet Erica
Erica Steward join the Jill Duzan team at the beginning of February 2020 as a Studio Assistant. Erica danced with a professional contemporary ballet dance company for 6 years before retiring from the stage to return to school for Interior Design. Her dance career gave her a unique insight into the creative process that she now uses in her latest venture - jewelry work. "The JD team is so talented and great to work with. I'm so happy to be a part of this team."