"The mixing of materials, textures, and styles from many cultures and tribes – past and present – to create an artful, modern style is not trendy, but is reflective and respectful of the ancient cultures and where they come from. I think it tells a story and honors what it is, which is timeless."

– Jill Duzan
Celebrating artisans past and present from all over the world.
The new Jill Duzan Gallery Collection: Artful. Ancient. Modern. is full of globally collected artifacts steeped in ritual and tradition, now artfully reimagined for the modern woman.

You don't have to travel the world to look well-traveled.
FIRST LOOK
Rare blue and green ancient Hebron wound glass, vintage recycled glass, handcrafted Thai silver, matte African clay heishi, and Baoule brass are elegantly attached to our adjustable large link silver chain.
Triangular Telsum prayer box, white green heart stone, vintage recycled glass, handcrafted Thai silver, dinosaur bone and conch shell on an adjustable leather cord.
Terracotta Mali bead, African clay heishi, handcrafted Thai silver, pyrite, white metal, cognac quartz, turquoise, dinosaur bone, and hematite.
Matte pyrite with African clay heishi on a sterling silver beaded top.
African bone saucer beads, pyrite, labradorite, dinosaur bone, Navajo pearls, Thai silver and gray moonstone.
Naga conch shell with white freshwater pearl and pyrite on sterling silver dotted shepherd hook tops.
Pyrite, hematite, and silver with Telsum prayer box detail.
Ethiopian Coptic Cross, Ethiopian white metal, triangular Telsum prayer box, and vintage recycled glass on adjustable leather.
Abalone briolettes, vintage recycled glass, gray moonstone, dinosaur bone, and hematite with sterling silver clasp.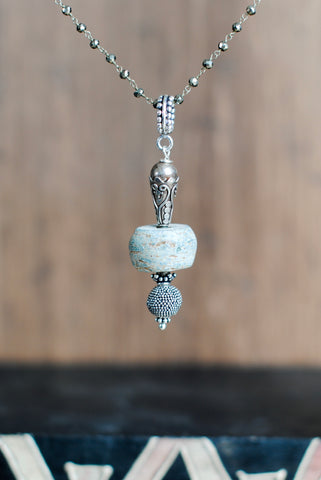 Rare blue Ancient Hebron wound-glass with silver Bali beads.